simonshack wrote:

reel.deal wrote:About the WTC-2 - when i went up it was winter, and the roof was shut in case of high winds. While the tower didnt perceptively sway in the 3/4 hour i was there, me & my mate definitely wondered aloud to each other if it would. [/i]

Dear Reel Deal - and Pov

When I was up on WTC2 with Kristan (the NY ballerina - at right - in the picture) it was fairly windy (funny though, can't see much hair flapping in the photo, but anyways...) and I clearly remember the tower's swaying rather alarmingly. For what it's worth, that's my recollection - from sometime in the mid-80's... It was certainly physically perceptible - a bit like the nauseating motion of a large cruise ship (for lack of a better parallel) .
Hey man,
Im back from a break n ready to get back into it. How are you? Hope your well!
I too made a trip to New York in 2006 Christmas. It was to visit my parents who live in Boston. I flew a great amazing cute sth American (Chile) girlfriend of mine there as well. We so wanted to look at the Big Apple. We loved it there. Allot of the people are really friendly in NY. And we just loved the hustle n bustle of New York. We did it cheaply… Hanged N drank 40 ounce beers with the homeboys in Times Square and we went up the Empire State Building. It was a bit windy up there… But more than ever it was f.f.f.f freezing! I never wore so many layers HA! And then we went across the free ferry to Staten Island. After the ferry trip witch was our last night… We both walked up; from the port, to the famous downtown movie set.. ah I mean "ground zero"… We had a moment of silence, there and then left back to our hotel.
reel.deal wrote:


yeah, it wasnt that windy when i was there, we were hoping to see & feel the sway...

full link: http://www.youtube.com/watch?v=ru83YHdSTug


So the ashes of totally incinerated cardboard pizza-boxes maintains enough structural integrity to
support the upper levels. So much so, in fact, that

no collapse occurs

, and the top levels eventually
topple over sideways, head first. stoopid physics & laws of gravity.

Rebuild the TwinTowers out of

Dominos

TM

pizza-boxes, next 9/11 that happens they only need to
rebuild each upper half-tower, and just refurb each still-standing lower half...
stoopid steel & concrete skyscraper architecture materials.
I have seen that demonstration at a
"1001 Pizza deliverers for 9/11 truth"
rally! They really go to amazing amounts of in depth scientific analysis. I would like to see a judge dismiss the pizza box tower. As if he could... "1001 pizza box towers on fire" speak for themselves!
Personally I really believe
"Snow sculptors for 9/11 truth"
have some excellent analysis as well!
full link: http://www.youtube.com/watch?v=RrSAn1V7bec
Maybe the drapht blowing around, maybe a plausible answer why the width of these to buildings drew far n close together?
simonshack
These 2 frames are extracted from different 9/11 TV documentaries. What's going on here??

Here are yet 2 more comparisons of the same city block (with pretty much similar vantage points/viewing angles). But does it all add up?

Now find buildings Z and Y in the below image

( Source:

http://www.corriere.it/esteri/speciali/

... settembre/ )
I may have found another... West St Perpspective to add to the list Simon!
WIDTH OUT…

Pic 1-
World trade centre vicinity post 9/11.
Source-
http://www.corriere.it/esteri/speciali/ ... settembre/
Pic 2 –
Source- Field Tape part 1
http://www.itnsource.com/shotlist/FoxNe ... /X11090101
Time- 2.23 minutes
Exuse water mark on this gif...
1-
2-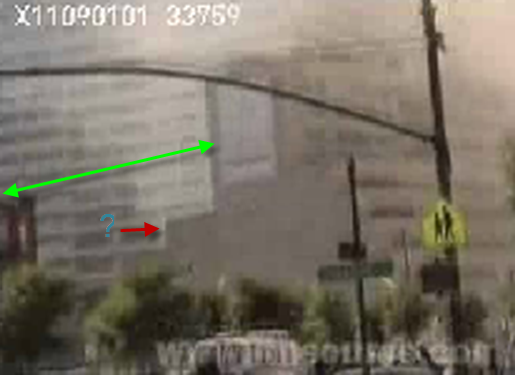 Were they born in a tent? Talking about leaving yourself "wide" open.