This is part of the research on italian victims of 9/11 posted by Simon Shack here (and in previous threads as well). Because of its in-progress nature I am sharing it in the public area for the time being. Refer to the mentioned thread for the previous episodes.
So, I had an exchange via email that produced something, I wouldn't call this a breakthrough (not yet), but I will gladly summarize it here, leaving out the emails in their entirety for brevity and also because I never warned my counterpart that I could post this material on a forum.
Looking for info on the Italian victims of 9/11, I decided to contact
AVITER
, which is the
Italian Association of Victims of Terrorism
.
The purpose of this Association is to defend and represent the victims of the unsolved terrorist attacks that happened in Italy over the years, that in so many cases never produced a certain trial or even a compensation for the innocent people involved (of course fakery is probably disseminated in these stories too, but I tend to believe the reality of many terrorist events that happened in Italy, especially related to the political battles of 30, 40, 50 years ago. At least regarding the fact that people were actually killed or maimed because of it.)
The AVITER website has a page dedicated to the
italian victims of international terrorism
. Mostly journalists or tourists allegedly involved in terrorist events abroad. The page lists victim per dates, and as you can imagine
there were no victims listed for 9/11!
Actually, as I write this, the page recites the following: "sono in corso di accertamento i nomi delle vittime italiane al World Trade Centre di New York: 10 italiani e 270 italoamericani."
[Names of italian victims at the World Trade Center are being verified: 10 italians and 270 italo-americans]
.
This

9-years-late

note is the result of the inquisitive emails of yours truly.
After my first generic email to the Association where I only pointed out the possibility that there had in fact been italian victims on 9/11, I received a five lines prompt response that in short stated: "Francamente non abbiamo mai avuto notizia della presenza di vittime dell'11/9 con la cittadinanza italiana."
[Frankly we never had notice of presence of victims of 9/11 with Italian passport]
. It also promised further research into the matter: a candid attitude of my interlocutor at AVITER that so far hasn't changed and of which I can only be grateful.
In the emails that followed I sent him links to a few contradictory sources:
*
Foreign Minister Ruggiero back in 2001 generically referring to Italian citizens who lost their lives in the attack
;
*
the above flickr picture
of the stone exposed at the Italian consulate in New York, that mentions generic "Italian victims";
*
This list of victims of terror from all countries
counting 4 Italians on 9/11;
* This
2008 speech of Italian President Napolitano
, that mentions 10 Italian victims of 9/11;
* This
article from the American Consulate
, also mentioning 10 Italian victims (which served as the source for
this Wikipedia page
);
* this
article from the Sigonella US Navy Base in Sicily
, mentioning two Italian citizens victim of 9/11, "locals" from a nearby town (one of these two characters, born in a small Town in Sicily, worked at "Cantor Fitzgerald" -- 'nuff said.) (to further confirm the reality of this incredibly bogus and blatantly untruthful source, I also attached 2 PDFs on the same subject, to be found
here
and
here
. )
My AVITER interlocutor started his own research and shortly sent me an article from the newspaper "La Stampa" dated September 27 2001, where Foreign Minister Ruggiero (again) refers to the italian victims, making this incredible statement:
Ci sono stati tanti italo-americani. Poi ci sono 37 oriundi, di cui 27 con doppia nazionalità e 10 con passaporto solo italiano. I nomi debbono rimanere top secret perchè così vogliono gli americani.

[There were a lot of Italian-americans. 37 of italian origin, of which 27 with double passport and 10 with italian passport.

The names have to remain top-secret because this is what the Americans want.

]


(this article cannot be linked to directly. Go to this page and search for "Ruggiero a New York". The first result will be the one we are referring to here)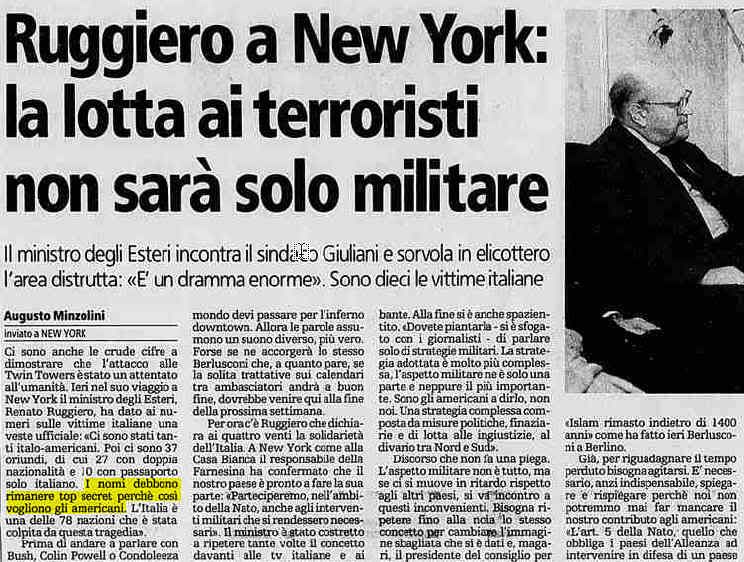 Incredible slip of Minister Ruggiero, that implies a rule-of-silence that doesn't seem justifiable even right after the events (and certainly is not justifiable now, almost 10 years past).
Facing this, my AVITER interlocutor tried to speculate on the reasons for the cover-up, but nothing seemed to explain the fact that the Italian Government, and his Association as well, never acknowledged such victims, their names or exact number. Was everyone sleeping on 9/11? Even now, as AVITER refers on its website to 10 possible Italian victims to be verified they do it not because there are governmental sources for it (they still have to receive official answers on the matter, and I doubt they ever will), but only because they infer these numbers from such news articles (from which actually the Italian victims should be counted as 27, not 10, since a double passport still means Italian citizenship).
Of course we know there were no Italian victims in the WTC as there likely were no victims at all.
But it is simply not acceptable anymore for the Italian authorities to shy away from this falsification of the truth. If not brought to admit the cover-up, they have to be forced to lie, to officially claim a few vicsims for them and be called (by us) on it. This is the reason we citizens have to push for "official" statements and records.
Ultimately, AVITER maintains to have contacted on this issue the Italian Embassy in the U.S. and even a "family member" of a victim of 9/11. We'll see what these contact will bring.
My interlocutor at AVITER has since written an appreciable
post on his blog
summarizing his point of view on our exchange, quoting more contradictory sources and pointing the many strange discrepancies and inconsistencies of this story. He is far from doubting the existence itself of the victims, but hey, Rome wasn't built in a day.
If he is reading this, I cannot but invite him to try and learn more about the supposed victims. To find pictures of them, or read, for example, the memorials, such as
this
or
this
, two alleged italians: and try to find in them a single truthful word.
Bottom line, following my inquiries AVITER changed its official position about the italian victims of 9/11. Now the ball of contradictions is in their court. Regardless, this made me feel a "citizen", simply put, which is a very empowering feeling -- I certainly recommend everyone who can do something similar in their own country to do it.