*
PHIL JAYHAN - still roaming about
"A

tapir

(/ˈteɪpər/ or tə-peer) is a large herbivorous mammal, similar in shape to a pig, with a short, prehensile snout. The New World species seem to be headed toward extinction as the advance of civilization destroys their environment and as native people hunt them, sometimes just for sport."
Dear forum members & readers - and animal lovers,
if you have ever worried about the fate of tapirs - an endangered species threatened with extinction - worry no more: thankfully, it appears that some charitable billionaires have taken the issue of their receding habitat at heart - sometimes even hosting them in their own mansions for weeks at a time :
Phil Jayhan's 2004 tribute to tapir-lover/saver DEBORAH SIMON:
http://letsrollforums.com/many-thanks-d ... -t832.html
So WHO - you may ask - is this wealthy & charitable benefactor, Deborah Simon?
Let's start from this old information provided by 9/11 researcher "Poseidon":
"Poseidon"
wrote (at 9/11forum.org.uk )-
on June 13, 2006
:
"Following the expose of Deborah S Simon as the link between the billionaire Zionist perpetrators of 9/11 and disinformation agents such as Tom Flocco, Karl Schwarz and

Phil Jayhan

, the crooked cabal have been attempting to regroup with an alternative team of shills. These rather more articulate propagandists operate under names such as

Richard Andrew Grove

, Eric Andrew Blair and 8thEstate; their task is to carry on the work of Flocco and Co in distracting truth seekers with false 9/11 news and conspiracy theories." (...)

Read more :

http://www.911forum.org.uk/board/viewto ... 2b216#9722
Naturally, such a shocking rumor linking Phil Jayhan to Deborah Simon and the 9/11 perpetrators themselves was bound to be, sooner or later, submitted to Jayhan - so as to give him a fair chance to defend himself from such horrid accusations...
Here's what a Let's Roll forum member managed to post (before being promptly banned) -
on September 28, 2006
:
IknowWATuDIDlastSEPTEMBER wrote:

"Here is why Jayhan is a disinfo plant. Jayhan, along with other phony truth seekers, all seem to have one common link....DEBORAH SIMON.

The Simon family includes two Deborahs. Deborah J Simon is the daughter of Melvin Simon and Vice President of Simon Properties. The shills handler, Deborah S Simon, is the daughter of Gerald Cox, a former Captain of Naval Intelligence, and married Jeffrey who was one of the sons of the Simon family. Jeffrey died, evidently of a drug overdose, in the Eighties. Deborah S Simon is still in close contact with Diane Meyer Simon, who married Herbert Simon in 1981. Herbert, 71, is ranked 346= with $1.0 billion in the Forbes 400 (Richest Americans); Melvin, 78, is ranked 93= with $2.5 billion.



Melvin Simon is a business partner of Larry Silverstein and Frank Lowy

, who acquired the World Trade Center - and made sure the insurance did not exclude terrorism - a mere six weeks before the 9/11 attacks." (...)

Read more:

http://letsrollforums.com/showpost.php? ... ostcount=6
So what does Jayhan reply to that? Nothing. He just bans the guy.
Now, if all the above information regarding Deborah Simon were entirely false / made up out of thin air - one would have reasonably expected Phil Jayhan to have at least stated so - before booting the 'offending' forum member into oblivion. But no.
Four days later, on that very same thread, another Let's Roll member ("Moskito") flies by - and submits to Jayhan this simple question :
Here are the three ...ehrm... "answers" by Phil Jayhan - in quick succession (*clock ticking*) :
Phil Jayhan wrote:

"ANSWER 1":

(2 Oct 2006 , 08:19 AM)

I am a friend of hers, why? Something wrong with that? Enquiring minds wanna know!

cheers- phil.

I did look at the info he gives, and it is total crap! I don't work for the CIA moron!

"ANSWER 2" :

:

(2 Oct 2006 , 08:40 AM)

"I'll tell you what. I am in no mood for any bullshit from some little nameless, faceless moron.

And I want a full apology or I am going to simply ban you. You have 5 minutes to comply.

cheers-phil

I'll be damned if I am going to take shit from YOU on MY forum!"

"ANSWER 3" :

(2 Oct 2006 , 08:52 AM)

"I gave you 11 minutes. Times up!

Banned!

cheers-

phil

See how that works? Get in my face and be a dick to me on my forums, and what did you expect?"

http://letsrollforums.com/showpost.php? ... stcount=16
So be warned, folks: don't be a dick to Jayhan. Answer to his orders - FAST ! - or else get lost. He'll give you max 11 minutes!
As rumors have it
, Deborah Simon also financed the making of the blockbuster "9/11 truther movie" Loosechange. If those rumors are / or not, just rumors - maybe we could ask Jayhan about it - since he clearly doesn't deny being a close friend of Debbie?
In any case, try and picture this line-up:
the three tapirs - Dylan Avery, Phil Jayhan and Richard Andrew Grove - ALL fed by the multi-billionaire Simon family (and Larry Silverstein's business partners)?
Would make sense, wouldn't it?
...
******************
To be sure, Phil Jayhan actively promoted the phony "Loosechange truther movie" - as mentioned by Dylan Avery here:
Dylan Avery wrote:"In April 2005, after a financial boost from Phil Jayhan of Letsroll911.org, a 1,000 DVD pressing of the original Loose Change was released on the internet, mostly on a whim."

http://www.communitycurrency.org/LCFC.html
Phil Jayhan also promoted the infamous "POD theory" - which Dave von Kleist (another gatekeeping clown) used in his phony truther movie " IN PLANE SIGHT". This was all about a supposed
"military ordnance device attached underneath Flight 175 which would have fired a missile to facilitate its penetration into WTC2"
. Of course, the "POD" theory was meant to reinforce the false notion that the Hezarkhani "amateur video" was real and legit. Here's Phil Jayhan complaining that Dave Von Kleist ought to have made a 'sizeable donation' to him - for his "POD discovery":
http://letsrollforums.com/vonkleist-and-pod-t12780.html
Dave Von Kleist showing the "POD" :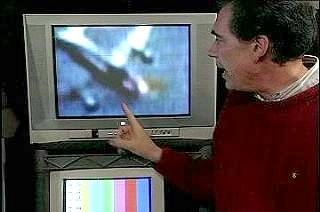 Phil Jayhan
also promoted
the phony "truther" movie by Sophia Shafquat (aka Sofia Smallstorm) - "9/11 MYSTERIES". That gatekeeping movie focused on reinforcing the all-important myth that people were trapped in the Twin Towers - and died:
https://www.youtube.com/watch?v=1Jk09KxoVUU
Today, Phil Jayhan's main "9/11 research efforts" appear to be focused on discrediting yours truly - and our Cluesforum research.
Here
is a thread he started in 2012. With over 70.000 views, it is now one of the most viewed threads of his Let's Troll forums. I registered on their forum a long time ago and have done my best to respond to their many questions about myself (as if my 9/11 investigations don't speak for themselves) in a patient and gracious manner. I think it is about time that Phil Jayhan registers on this forum and answers to MY questions. Will you, Phil?