*
Dear Cluesforum members and readers,
I believe the time is ripe to call out NASA - and indeed the entire international space industry - for the astronomical hoax that it is, from start to finish. As we have patiently and fairly comprehensively demonstrated on this forum over the years, none of the advertised American NASA space exploits (or any other nation's) is in the least believable - for a multitude of reasons. I have personally come to the conclusion that space travel is impossible (no rockets can be propelled in the absence of air, let alone switch off their engines and keep orbiting indefinitely and "for free" around our planet at hypersonic speeds!) - and that once this insurmountable threshold of mankind's technology was discovered back in the days, the Nutwork (aka "the powers that be") decided to fool this entire world's population with their spaced-out fairy tales.
These tall tales of "space conquests" were (and still are to this day) sold to the public via mass propaganda campaigns which rely primarily on the subterfuge of feeding the TV-addicted masses with a constant flow of phony imagery, created with very real and exploitable technologies available to mankind since the early 1900's:
photographic doctoring
- in all of its forms, the sort of which also sold to the public - a few years earlier - the myth of the "Atom Bomb" (see our Nuke Hoax thread
here
).
NASA, as many of us have suspected for decades now, truly appears to be nothing but an extended "Hollywood production" sold to the public as reality. Yet, although millions of people today do not buy into NASA's purported moon landings, most will stop short of considering / or logically realizing that NASA, throughout its existence, never became a serious scientific enterprise - but has quite simply kept deceiving the public to this very day with increasingly sophisticated, fake / fictitious "Hollywood-grade" imagery.
********************************
NASA - the tallest of all tales
Part1: The First NASA Chief Administrator
Let me introduce you to the very first NASA Chief Administrator,
T. Keith Glennan
- who took office on Oct1, 1958: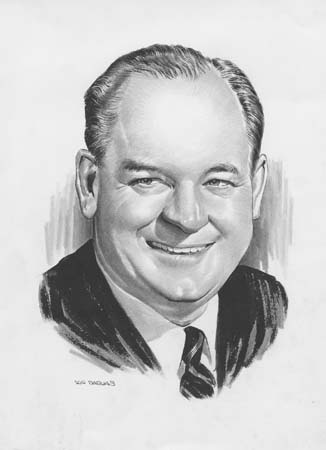 full link: http://www.youtube.com/watch?v=td482FjThYM
You may now wonder: what credentials / and previous professional experience did Mr Glennan have - so as to be chosen as the very first administrator of NASA - destined to become known as the "world's top technological enterprise" ? Let's see what NASA's official website has to say about this:
"Born in Enderlin, North Dakota, on September 8, 1905, Dr. Glennan earned a degree in electrical engineering from the Sheffield Scientific School of Yale University in 1927. Following graduation,

he became associated with the newly developed sound motion picture industry

, and later became assistant general service superintendent for Electrical Research Products Company, a subsidiary of Western Electric Company. During his career he was

studio manager of Paramount Pictures, Inc., and Samuel Goldwyn Studios

, and was briefly on the staff of Vega Airplane Corporation."

http://history.nasa.gov/Biographies/glennan.html
Amazing, isn't it? Why would a former studio manager of Hollywood film companies (and a previous superintendent for a joint which made loudspeakers for the movie industry) be chosen by the US government to head the newly-formed NASA organization? Was there really no better, more qualified candidate to lead this immensely ambitious and "highly scientific" American space program? Or was Mr Glennan, with his Hollywood background, a most appropriate candidate to launch what was to become, essentially, Hollywood's longest-running "reality show"?
I will leave all readers with this thought for now, but stay tuned to this thread. It is high time for all alert, free-thinking citizens to rise up intellectually and reject / destroy the NASA myth - and its many spin-off, copycat "space agencies" around the world. All of them are, of course, government-funded / taxpayer-supported entities. And to all those 'romantic' daydreamers who loved to envision mankind's future migrations to other planets, please learn to love and appreciate the beauty of Mother Earth. It's the only place we have. All we need to do (to make it perfect) is to weed out the gang of clowns and charlatans that we have mindlessly allowed to reach the highest positions of power.
A tip of the hat goes to "smj" over at http://www.fakeologist.com - for pointing to T. Keith Glennan.
******************************
Feel free to copy this captioned image and diffuse it all over your social media channels :