We've all heard the same claim, by defenders of 'Official Truth', that the Apollo missions and space travel are real because corner cube array retroreflectors are
known
to be on the Moon, and therefore proves some sort of spacecraft must have journeyed to the Moon in order to place them there.
What's wrong with this claim is as follows:
It is effectively

impossible

for anyone to unambiguously demonstrate that any such retroreflector is actually present on the Moon!
"Why," you ask? Ah, the Devil is in the details:
First of all, no amateur anywhere can ever hope to test for the presence of these supposed retroreflectors. (see
here
for a reddit "Ask Science" discussion).
In order have any chance (in theory, mind you) of firing a laser at a lunar retroreflector and detecting even a single return photon back on Earth, you need access to an enormous (3.5 meter minimum) observatory telescope, an extremely powerful 532nm (green) laser with a
gigawatt
of peak power that can output pulses of 120 picosecond duration at 20Hz, customized detection electronic hardware, and the specialized computer hardware and software to collect and
statistically
interpret the so-called "data".
There are only EIGHT (8) observatories in the entire world equipped to do these lunar ranging experiments!
APOLLO, Macdonald, and Hawaii (all USA), Grasse (France), Wetzel (Germany), Matera (Italy), Hartebeesthoek (South Africa), and Mount Stromlo (Australia).
https://ilrs.cddis.eosdis.nasa.gov/scie ... lunar.html
Further, once you delve into the nuts and bolts of how this apparatus supposedly works, you discover that it requires you already know - in advance - the exact earth-moon distance before you set it up and run the test – so it can then tell you the earth-moon distance! Talk about circular reasoning (not to mention confirmation bias)! I know it sounds ridiculous, but its right there in the write-up:
From
"The Apache Point Observatory Lunar Laser-Ranging Operation (APOLLO)"
, page 6:
...the APD [Avalanche Photo-Diode] is "gated on" only for short intervals (~100ns) around

the expected pulse return time.
The reason given for such a "gated" design on the detector, combined with the 20Hz pulse rate, is to filter out the huge amount of "noise" that would result from local reflections of the laser light off surfaces such as the telescope itself, dust particles, insects, birds, clouds, etc. This is done by adjusting the frequency of laser pulses so that the (theoretical) return pulse timing will be 180° out of phase with the outgoing pulses (meaning the detector is never on at the same time the laser is sending a pulse).
Most people who believe in the lunar retroreflectors know nothing of these nuances. But that's neither here nor there.
"But doesn't the fact that they detect anything prove the light is bouncing off the reflectors?"
NO! In fact that leads us to the largest and never discussed problem! This intractable problem presents itself in the form of
ambient 532nm light which

does not

originate from the laser at al
l:
The sun, as it happens, outputs its peak intensity at around 500nm!
Sunlight Spectrum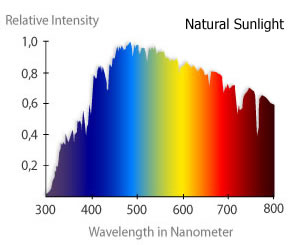 This results in the lunar surface being aglow with reflected sunlight containing the same wavelength you are attempting to detect as having come from your laser!
And yes, they do run these lunar ranging experiments during all lunar phases!
The APOLLO observatory schedule for 4th quarter of 2017:
http://35m-schedule.apo.nmsu.edu/2017-1 ... /AP01.html
Even when the experiment is done at those times when the supposed retroreflector location is not in sunlight, there is still the problem of ambient light from the lit portion of the Moon striking things like ice crystals, dust, clouds, etc in the line of sight to the Moon.
How do they account for this tremendous amount of ambient noise?
How do they isolate their theoretical single return photon from the thousands of times larger noise photons of identical wavelength?
How do you detect a moth fart in a hurricane?
The answer? Statistics! Curve-fitting! Residual analysis! (the same methods that allows
bolsheviks
climatologists to "unambiguously" claim, based on sparse and skewed temperature data, carbon dioxide rises since the industrial revolution will have us all living on waterworld!
)
So, in short, I see no reason to acquiesce to claims that there are mirrors on the Moon. It cannot be tested or verified. It requires faith, so I have two words for the idea of lunar retroreflectors: "PLONK, FLUSH!"