pov603 wrote:

Pity the poor girls, someone is showing them female models wearing trendy skull-emblazoned long cardigans with huge scarves...

The boys obviously know what is coming next, yes you've guessed it, male models in lacoste polo shirts and matching sweaters...
Yeah, like this recent modeling of Gina Tricot's skull cardi (see below)
Btw guys, there is only
one
actual female represented in that group, i.e. Tonje Brenna.
@
http://scanpix.no/spWebApp/preview.acti ... s=sy764ceb
Photo caption reads: "Oslo, Stortorvet. The terrorist attack. Memorial Service in Oslo Cathedral. IMAGE: AUF management had many bad times after the massacre of Utøya.
From left
: Deputy Åsmund Aukrust, Director Eskil Pedersen, Secretary-General Tonje Brenna and former AUF leader Martin Henriksen. PHOTO: DAG W. PORSELÆNSFABRIK SETH"
I knew I recognized Eskil's girly 'do'
And no woman would hold her hands over her face like that in public anyway (unless they never wear
any
make-up at all!), it's childish behavior regardless. But since the perp shoopers are asshats & idiots, it makes 'sense' to them.
To
really
see some
red
paintwork, just lighten it up with the gamma correction: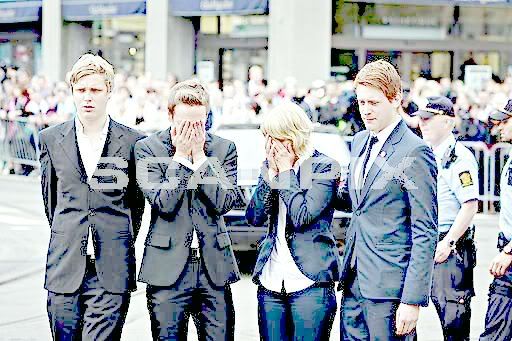 Poor Eskil must have been so worried about breaking his hair, he broke his right 'hand' instead:
Ouch!
Another
mess
terpiece from SCAMpix.
Yep, this shit's so bad it'd make my eyes bleed too!
Following pics @
http://www.chictopia.com/photo/show/502 ... ker-romper