Selene,
I'm not sure what you mean by Gaia. Do you mean the thing I'm standing on or Lovelock's silly metaphor?
A metaphor that he dreamed up on Nasa's dime:
"He first conceived the Gaia hypothesis while working at the Jet Propulsion Laboratory in Pasadena, Calif., in the mid-1960s, where he was designing life detection instruments for NASA's Mars Viking probes.
How, Lovelock asked himself, if he were on Mars, could he tell there was life on Earth? By the Earth's atmosphere, which defies all natural expectations. Free oxygen accounts for 20 percent of the atmosphere, when the laws of chemistry say that this highly reactive gas should combine and settle down. How fortunate for life, most of which depends on oxygen for survival.
Lovelock concluded that life -- microbes, plants and animals constantly metabolizing matter into energy, converting sunlight into nutrients, emitting and absorbing gas -- is what causes the Earth's atmosphere to be so, well, lively. By contrast, the Martian atmosphere is essentially dead, settled into a low-energy equilibrium with little or no chemical reactions. So he recommended that NASA save its money and scrub the Viking mission. Carl Sagan, his officemate, did not agree but Sagan's then wife, microbiologist Lynn Margulis, took Gaia to heart."
http://environment-ecology.com/gaia/72- ... -gaia.html
Yep. We are told that Lovelock was hanging with Carl Sagan in his office at Jack Parson's Lab when he had his Gaia eureka moment.
Lovelock also happened to have a buddy named William Golding, yep that William Golding, who told him to name his new theory Gaia.
Then with a little help from Carl's ole lady Lovelock got all systems theory/cybernetic on us.
"The idea that life, the biosphere, regulated the Earth's surface environment to sustain habitability came to me at the Jet Propulsion Laboratory (JPL) in 1965. It arose from a life detection experiment that sought the presence of life on a planetary scale instead of looking at the details visible on the surface. In particular, NASA's quest to find life on Mars provided me with the opportunity to ask the question Can the existence of life be recognized from knowledge of the chemical composition of a planet's atmosphere? The answer was a resounding yes. This way of thinking pre- dicted in 1965 that Mars and Venus were lifeless long before the Viking landers failed to find life on Mars in the 1970s, but it also drew attention to the extraordinary degree of chemical disequilibrium in the Earth's atmosphere, which led me to think that some means for its regulation was needed. Although they disliked my conclusions about life on Mars, JPL actively supported the early development of Earth system science. In 1968 they invited me to present a paper that included for the first time the notion of the Earth as a self-regulating system at a meeting of the American Astro- nautical Society. NASA now recognizes the validity of atmospheric analysis as a life detection experiment. Without realizing it, they have taken the science that led to Gaia and made it their new science, astrobiology. By doing this they have brought together under one theoretical view life on Earth and life on other planets.
The next important step was in 1971, when Lynn Margulis and I began our col- laboration. Lynn brought her deep understanding of microbiology to what until then had been mainly a system science theory that saw a self-regulating Earth through the eyes of a physical chemist. By stressing the importance of the Earth's bacterial eco- system and its being the fundamental infrastructure of the planet, Lynn put flesh on the skeleton of Gaia. Selling a new theory is a lonely business, and it was wonderful to have Lynn as a friend who stood by me in the fierce arguments with the neo- Darwinists who were so sure that they were right and we were wrong. And they were right to say that there was no way for organisms to evolve global scale self-regulation by natural selection, because the unit of selection is the individual organism, not the planet. It was not until I made the model Daisyworld that I recognized that what evolved was not the organisms or even the biosphere, but the whole system, organ- isms and their material environment coupled together. The unit of evolution is the Earth system, and self-regulation is an emergent property of that system."
http://mitpress.mit.edu/sites/default/f ... h_0001.pdf
Here's Lovelock's Daisyworld by Nasa...
full link: http://www.youtube.com/watch?v=sCxIqgZA7ag
Here's Gregor(y) Bateson's daughter; no, not Nora but Mary Catherine, explaining the Gaia metaphor's relation to cybernetics. She's speaking at Lynn Margulis' memorial because they were dear friends of course...
full link: http://www.youtube.com/watch?v=iMT4QMmvC4E
Here's Mary Catherine again talking about her dear friend and her contribution to "the future of cybernetics"- at the 26:30 mark...
full link: http://www.youtube.com/watch?v=nXQraugWbjQ
Besides dreaming up sweet metaphors, Lovelock was able to build super duper sensitive pollution detectors. His detector proved Rachel Carson's theory with its 1 part in trillion accuracy and whatnot...
https://en.m.wikipedia.org/wiki/Electro ... e_detector
James tells us that not only was his ECD super duper sensitive, like 'Wild' Bill Libby's super sensitive geiger counters I reckon; but it was "uniquely sensitive to nasty things"...
http://www.webofstories.com/play/james. ... 6EDE25D434
We are also told Lovelock, the adventurer and environmental steward, even sailed to Antarctica to discover the CFCs that were pokin' Gaia's o-zone.
Here's a picture of Lovelock working at Nasa back in the day when he was working on detectors...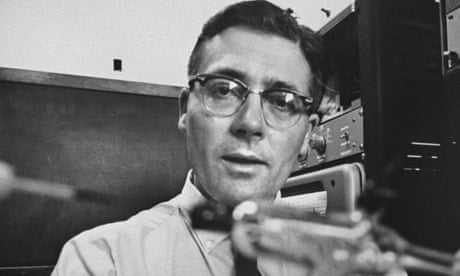 Now it seems he's worried about "accelerated evolution" and "endosymbiosis with the mechanical world", I reckon Sagan's ole lady would be proud...
"He cites Moore's law, which states that a computer's processing power doubles every two years, and says we, too, will have to adapt to this speeded-up world. Man likes to assume he is the end of the evolutionary cycle, but dinosaurs, who held sway for almost 150m years, probably laboured under the same misconception. In the book, Lovelock posits the idea that one consequence of accelerated evolution could be that at some point we ourselves incorporate inorganic elements in our bodies. "Instead of robots going to war with us and taking over the world, which is the way it's always portrayed in science fiction," he says, "I thought, what happens if we join with them?""
http://www.theguardian.com/environment/ ... over-world