DeeJay wrote:

Equinox wrote:

Unique, rare 9/11 material shot from the Hudson

full link: http://www.youtube.com/watch?v=3HbD_Q6kmh8

Yes folks, more

"Never seen before footage"

from 9/11 with the usual "

CUT!!"

stop rolling.... then start again filming...

don't cameras work?

.. Minutes later.

This movie supposed to be from a boat... I will offer some analysis on it shortly. As soon as finish the CNN post I'm working on. But I figure a few of us here will get a kick out of it so I have placed it up before I comment on it.

***

Dear Equinox,

I am reading my way through this website. It was interesting to finally see some footage from the water. Did you ever get back to this video as you had mentioned?

DeeJay
Thanks for bringing that up, It's a smoking gun for me.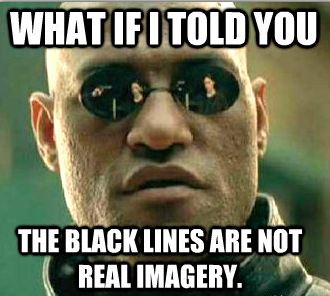 Here is a demo.
Here's what newly-imported clip into chroma key looks like, with no filters.
Then slap on a Chroma Keyer
The realism of a chroma key is largely determined by how
the keyer handles the boundary surrounding the Foreground image.
As a result of the processing involved in extracting a key signal from
the Foreground chrominance, there is a tendency for the key to
'spread',
leaving a dark line at the edges of non-keyed Foreground
Objects.
simonshack wrote:*


BLACK MASKING OUTLINES in the newly released (2010) NIST imagery

Here we can clearly see how those

fat/black, contour outlines

(a true 'trademark' of the horrid 9/11 imagery) actually

interact

with the various image layers (in this case, the rising smoke). To be sure, this is

not

something which can occur in the domain of real photography - but

only

in (sloppy) digital compositing:

If you wonder what I'm asking you to look at, here I've added a few arrows to help your eyes focus on the problem: as the smoke rises up behind the World Financial Center building, it appears to "erase" that ugly black outline !

Those black contour outlines may seem unimportant to the layman - but they are extremely useful to determine the digital nature of the 9/11 imagery. They are a 'trademark' of the LIVE TV 9/11 imagery - and now we see them again in the recently released NIST imagery.

I rest my case: ALL (yes,

ALL

) the existing 9/11 imagery of the WTC collapses are digital contraptions.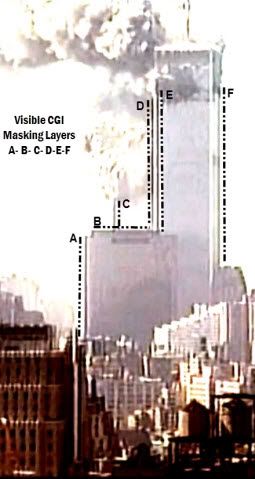 Seriously would they make cameras that even did a major flaw like that?
Here is the transcript of a conversation the other day about the masking lines. (The person was artist)
But I really need you too confirm something with your own eyes.. Give me your honest answer. CAN YOU SEE--- THE MASKING LINE Layers "C" and "D" FROM THE COLLAPSING TRADE CENTER do actually appear through the WTC-7? CAN YOU SEE THAT IN THIS SHOT I GRABBED? >>> THIS ONE......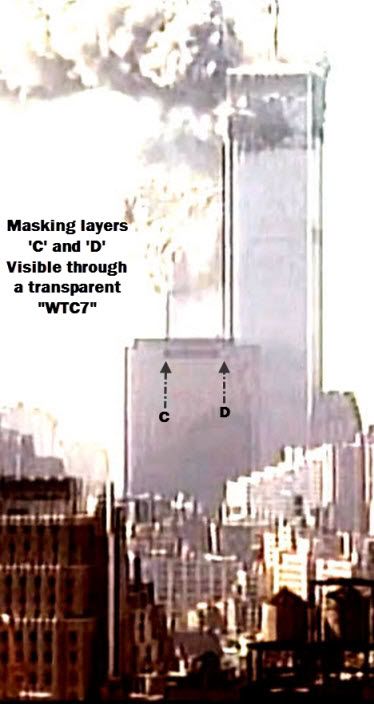 WITHOUT A DOUBT....IVE LOOKED AT THEM SEVERAL TIMES AND JUST TO ASSURE YOU IVE LOOKED AGAIN AND 100% AGREE WITH YOU THAT THEY WERE DOING SO..
THE MASKING LINES ARE PROOF OF FAKE FOOTAGE.
I HAVE PLACED IT IN THE DEBUNK THREAD...
viewtopic.php?f=21&t=289&p=2375446#p2375446
IT WILL NEVER BE DEBUNKED..
BUSTED.