*
"THE HEROIC FIREFIGHTERS"
* Telling the official fantasy-tale at Ground Zero *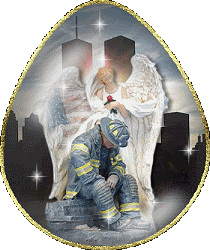 Were there fires on 9/11? Well, yes - there seemed to be some flames in the upper floors of the WTC towers after "the plane crashes". But as everyone noticed, they were quite confined and, even if you believe the official tale of 9/11, you'll have to admit they would have been completely choked out as the towers collapsed. No other heat source than the 'jet fuel' could possibly have ignited any successive blazes. Ok, so we were told about burst gas lines and WTC7's huge diesel tank, yada yada...Some fires were seen raging in selected imagery depicting WTC7, 5 & 6 but those appeared to be mostly unattended!
Yet, the unchallenged heroes of the 9/11 myth are the fearless firefighters who "fought the flames", 343 of them apparently giving their lives to save the people stuck on the upper floors of the buildings. As we have unveiled through our extensive (and yes, I would say "heroic!") investigations, none of those people and firefighters were -in reality- inside those towers. All appear to be fictitious identities generated by a bogus computer database featuring morphed portraits and phony tributes and obituaries.
So then what are these photos we now have from "Ground Zero", showing NFDY firefighters spraying more water on the flame-less heap of debris, trudging around the rubble with buckets, seemingly very much "in charge" of the area? Do these pictures somehow contradict our thesis that this was just a plain demolition job and that the NYFD was certainly not asked to clean it all up? Let's take a good look at the available pictorial record of the 9/11 aftermath and the - supposed - Ground Zero operations. As I scoured through hundreds of photographs generically credited to "FEMA", I immediately bumped into a familiar face:
Anyone who has seen the Naudet brothers' movie 9/11 will grasp the significance of this little fact. The young actor "Tony Benetatos" appears in the FEMA Ground Zero pictures which only features a handful of close-up pics of "FDNY firefighters"...But let's look at a wider view of the collective effort at Ground Zero:
Here follow a couple of enlargements of this quite interesting group picture:
Talking about spades, we will now look at two shots evidently snapped a mere couple of seconds from each other. (Note the majestic cinema lighting here). A firefighter walks towards the photographer. He swaps his spade from one hand to the other and, in the meantime, his colleagues start spraying the rubble behind him. Just consider my caption for a minute:
Next, we have a similarly dramatically lit scene with a seemingly fear-struck firefighter:
Now we have a lone firefighter balancing on a WTC beam against a dramatic rubble backdrop:
The firefighting apparently went on and on. Here's a dramatic scene featuring three young firefighters manhandling a firehose.
Their senior supervisor (apparently enforcing the FDNY's strict dress-codes) brings them some fresh replacement garments:
Meanwhile, out on the streets of Manhattan, a firetruck sprays another devastated building:
More firefighting is seen in the distance as Jack and John converse in a rubble pit:
Back in the bombed-out craters of Ground Zero, more water is sprayed at yet more improbable fires - but firefighter Bob is a little bit skeptical :
Bob finally gets to relax. Some patriot has managed to stick a flag in a high-rise WTC beam:
Bob shouldn't complain: he's got the Best Job in the World!
...and all of us poor civilians were kept out of the Great Ground Zero party:
Basically, the idea that the FDNY was in any way involved with the 9/11 false-flag operation is a total myth. If any honest New York firefighter reads this thread, I trust he will thank us wholeheartedly for suspending any suspicion of himself and his colleagues being part of this scam. I'd love to hear from one of you guys! Come on, be real men and speak out for yourselves! It's about time!