I am almost sure this has been pointed out already in some other thread, anyway I just wanted to underline here something I only recently noticed by accident, the resemblance that the wb11 logo have not just with the twin towers, but with the towers
and the explosion
.
From http://logos.wikia.com/wiki/KPLR-TV
Where the WB balloon would be the explosion cloud bursting out of the tower.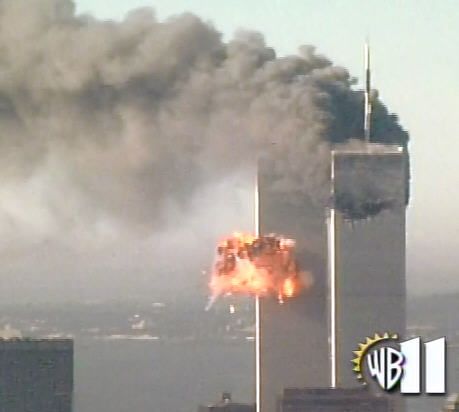 Screenshot from NIST cumulus, WPIX Dub #1 file 18
A bit of story of this local NYC TV channel can be read on wickedpedia here:
http://en.wikipedia.org/wiki/WPIX
From here we learn that the logo already in 1969 resembled the twin towers when the towers did not exist yet:
WPIX's famous "Circle 11" logo – predating the World Trade Center, which it closely resembled – was first unveiled in 1969 (a Yankee Stadium advertising billboard for WPIX with the "Circle 11" logo began appearing that year).

The station dropped the "Circle 11" when it adopted the "11 Alive" moniker in September 1976 (though it continued to appear during station editorials until around 1982); the "Circle 11" logo was reincorporated into the "11 Alive" branding in 1984, before returning full-time in the fall of 1986. Its relaunch featured a series of humorous promos in which a fictitious station employee, "Henry Tillman", was searching for a "big idea", for something uniquely New York in nature to serve as the perfect symbol for WPIX. The running gag in these commercials was the fact that Tillman was constantly surrounded by – but never noticed – objects resembling a giant "11", most notably the Twin Towers of the World Trade Center.

From

http://en.wikipedia.org/wiki/WPIX
And here is one of the WPIX commercials mentioned on wickedpedia:
full link: http://www.youtube.com/watch?v=bPRH1P9caDQ
Wicked says that the WPIX station was linked to the number 11 because it broadcast on channel 11; it became affiliated to Warner Bros (which means controlled by) in 1993. I wonder how many other local TV stations became controlled and affiliated just in time for 9/11, and if any survived independently at all at that date. Especially in NYC.