Good efforts are being made here to attempt to properly analyse the imagery from first principles...Hollycrap, great adaptation (your gif-making skills are superb). I'm trying to deduce from the mission transcripts whether the CM was claimed to be in equatorial or polar orbit...if anyone finds-out before me, good on you (and noho/Heiwa, keep digging too...I certainly shall)
Meantime, as a response to Howie...I agree, Armstrong's behaviour is always very very odd. He (out of all of the crew) is the one with the most-disturbing 1000-yard stare, and cryptic/fractured comments....he just looks like he's squirming with discomfort, then and now.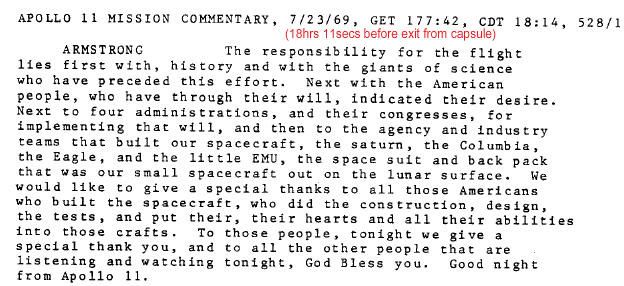 http://www.jsc.nasa.gov/history/mission ... ollo11.htm
If you haven't skimmed through the trancripts, especially of A11, you
should
. There are details lurking in there that are stunning. For example, I was amazed to read that the A11 crew are recorded as talking to what's described as "
the backup A11 crew
", who are personally named in the PAO transcript...Lowell,
William Anders
and Haise (this by radio during the notional pre-entry return phase, when a number of travelogue soft propaganda broadcasts are made, as above). Anders would have
been
Armstrong if they'd had to swap the crews, so he was (by some kind of definition)the first man
not
to (not to?) walk on the moon. Despite the fact that the transcript (and indeed all the audio) can of course all be entirely false it provides a truly-weird counterpoint to the large stock of impossible pictures.
There's such a lot that can be dissected, or attempted to be corrolated, in all of this supposed evidence. So much of the imagery is unquestionably false, but I'm increasingly confused as to *exactly* what was done, and more specifically, exactly who knew what was going on. "
Of course
", we may all say..."that's precisely the problem"...but what can we conclude from all of this??
In so many ways, this woud have made more sense if we'd unearthed a 'middle way', that somehow they managed to get someone (somehow, safely) up to the moon, and back, then re-staged the whole thing. But it
doesn't
really look that way either...which to me is making it more of a frightening mystery than it appears at first.
[edit]A vague reference to A11 CM being in a polar orbit..I think?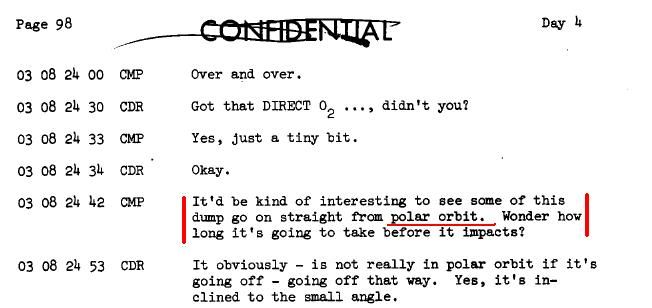 [/edit]