*
A LITTLE STOLTENBERG BACKGROUND
So who is this Jens Stoltenberg? Who is this man who, whether an obedient puppet or not, clearly has either co-planned the silly
Breivik
psyop or, at the very least, allowed it to be staged with his full consent - reaping both political and financial* benefit from it all? (*the convenient renovation of his government's headquarters - paid for by the Norwegian taxpayers)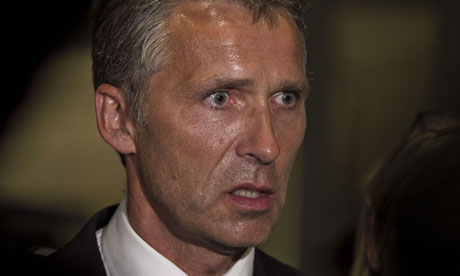 As you may remember, the very first 'popular' con-spiracy theories circulating on the internet immediately after the
Breivik
event was that
"Mossad was behind the (real) shootings"
- a meme reminiscent of the early
"dancing Israelis"
rumors of 9/11. But let's leave that at that - and take a more historical outlook at Stoltenberg's background. Before we do so, it may be worth mentioning that Jens is a frequent guest at Bilderberg meetings - that his father Thorvald is a member of the Trilateral Commission - and was a longtime Bilderberg member and that Jens' sister Camilla, is the director of the Rockefeller-funded People's Health Institute involved with controversial vaccination programs. Sounds like a conspiracy-theorist's wet dream, doesn't it? In any case, these are all - as far as I can gather - undisputed and plain, verifiable facts.
THORVALD STOLTENBERG_____________CAMILLA STOLTENBERG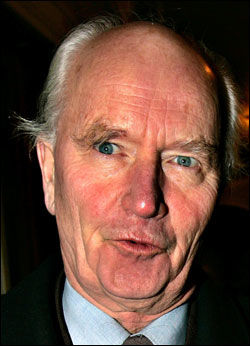 Now, here is where it gets more interesting. It turns out that father Thorvald's 'mentor', so to speak, was none other than Jens Christian Hauge. Well, you may never have heard of this prominent figure of Norwegian post-war history, so let me propose a condensed overview of this man, ripping a few lines from his Wikipedia page - and a few Norwegian mainstream media sources:
JENS CHR. HAUGE (1915/2006)
"Due to his position during and after the War, Hauge was one of Norway's
most powerful individuals for more than 4 decades."
Jens Christian Hauge was a key member of the Bilderberg Group. Frequent correspondence between Hauge and the group's founder, released after Hauge's death, showed that Hauge was a central figure on the board of the group.
Jens Christian Hauge was the leader of the secret MILitary ORGanization
MILORG*
during World War II. After the war, he became an important political figure within the ruling Norwegian Labour Party.
In the last months of the war, Hauge had secret talks with Wehrmacht officers that gave information about the German plans for Norway.
[wot? Secret talks with the enemy / invader?]
He became Norway's youngest Defence Minister in 1945, only 30 years old. He was a controversial man, and was criticised for not giving more information regarding central parts of the Milorg activities, such as assassinations of Norwegian collaborators.
Hauge was instrumental in having Norway leaving its position as neutral and join the NATO alliance in 1949
. After leaving government he was still central within Norwegian society and had a number of important positions. Hauge was involved in the establishment of the Norwegian state oil company Statoil, in the startup of the airline Scandinavian Airlines System and was also instrumental in arranging the foundation Fritt Ord, which works to maintain freedom of expression in Norway.
On 18 August 2008 (almost 2 years after his death) the two major Norwegian national newspapers
Dagbladet
and Aftenposten reported that Jens Christian Hauge
was on the OSS (today CIA) employee list.
(
http://en.wikipedia.org/wiki/Jens_Christian_Hauge
)
Wow. So this highly prominent Norwegian WW2 personnage and post-war politician was actually CIA??? The man who made Norway join NATO was CIA? Good Heavens. I wonder how many of my fellow Norwegians are aware of this ! And what does this tell us about Norway's role in WW2 ? But it gets 'better' :
In October 2008, a TV2 article 'revealed' that Hauge had lied (back in 1960) concerning Norway's sale of 'heavy water' to Israel's nuclear programme - telling the Norwegian Ministry of Foreign Affairs that the Israelis would not use the heavy water for military purposes. More interestingly (as far as Cluesforum and our ongoing Nuke Hoax study is concerned) Hauge also lied/recanted having actually visited Israel's nuclear plant:
"I en dagbok skriver Hauge detaljert om atombyen, «et imponerende anlegg» som han godt vet formålet til. Men i en rapport til Utenriksdepartementet i 1961 skriver han om et uskyldig anlegg som han ikke besøkte: «Jeg besøkte ikke anlegget» skriver han."

http://www.tv2.no/nyheter/innenriks/hau ... 96628.html

"In a diary, Hauge wrote in detail about the atomtown, «an impressive plant» which he well knew the purpose of. But in a report to the Foreign Office Dept in 1961 he wrote about an innocent plant which he did not visit: «I never visited the plant» he wrote."
So there we are: this is the background - not to call it the 'bloodline' - of the current Norwegian prime minister. Now just how close, you may ask, was Thorvald Stoltenberg with
Jens
Hauge? Well, as some Norwegian bloggers have it, he named his son after his old CIA 'mentor'...
*****
Relevant links for Norwegian readers:
http://www.riksavisen.no/?p=2237
http://www.riksavisen.no/?p=1745
*
: Imagine my 'surprise' when I learned that the horrid
VG tabloid
was originally a
MILORG
publication...