*
Dear Ataraxia,
One really must wonder HOW that burned car in the middle of the image got burned / damaged in the first place !
It doesn't seem to be anywhere near the 'impact zone' - yet it caught fire and lost both its front and rear windows?
AND its number plate too ?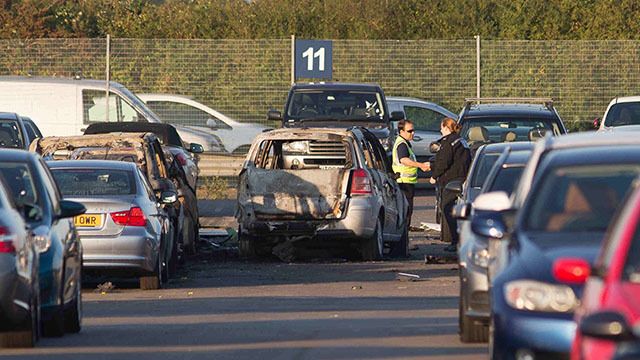 I always wonder - whenever such phony "news items" pop up - how to best point out their absurd and blatant fakeness. Alas, not everyone has an eye for / or will be convinced by - for instance - the obvious smudginess and digitally-crafted nature of the proposed imagery (in this case, the 'burned cars at impact point'). Or the ridiculous scarcity of plane debris - however small that private jet was supposed to be. So how about focusing on this(or these) ghostly fire hose(s) ?
(You are free to believe that what we see here is just that one, single fire hose - just folded back and forth several times...)
So where - pray tell - was that (or those) fire hose(s) attached - i.e. where did they get their water/ or foam from? Aha -
here's
where !
Am I saying that NOTHING happened there? That our member Euphoria is lying - about hearing a boom (or several booms) and seeing a smoke column rising from that remote area? No, I'm not. My best guess? How about that area being simply secured / ringed off from public view - and some explosives setting fire to a big pile of old car tires - in the middle of that car park owned by a pretty suspicious fellow?