A US domestic flight has made an

emergency landing

after the captain was restrained because of "erratic behaviour", officials say.

Passengers said

the captain left the cockpit and began to rant about a bomb and threats from Iran and Al-Qaeda

.

He was reportedly subdued when he tried to re-enter the cockpit, which had been locked by the co-pilot, officials said.

JetBlue

flight 191 from New York to Las Vegas

was diverted to Amarillo, Texas, after the incident.

The airline said the pilot in charge of the plane, which was

carrying 135 passengers

, decided to land at about 10:00 local time (16:00 GMT) after a "medical situation" involving the captain.

[...]

"I knew there were about 130 people on the plane... families, kids... and

I thought, this is not going to happen on my plane

," Mr Gonzalez said.
Source: http://www.bbc.co.uk/news/world-us-canada-17530734

Reminder of 9/11, reminder of Al Qaeda, reminder of the "threat" of Iran, reminder of passengers trying to overcome terrorists/save the plane, reminder of the "Miracle on the Hudson", 1+3+5=9...
The "crazy" pilot Clayton Osbon: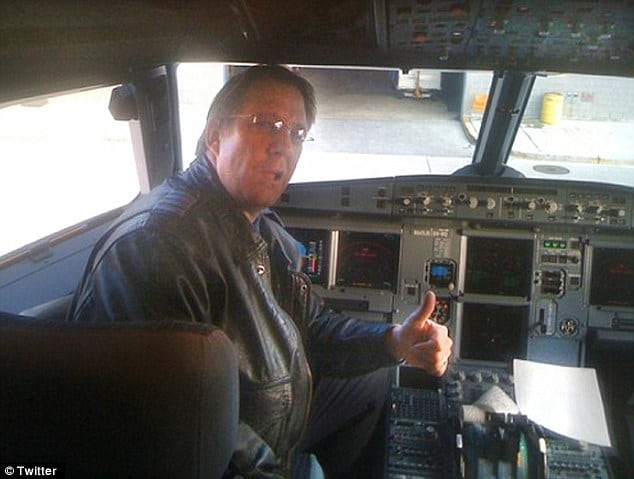 Our "hero" David Gonzales:
Clayton has appeared in print (unidentified, possibly "Richmond Hill Reflections: Guys in the Sky" by Christine S. Lucas):
Source: http://amarillo.com/news/local-news/2012-03-27
Clayton Osbon

dreamed of becoming an astronaut

when he was younger.
Source: http://www.myfoxdc.com/dpp/news/spaced-out-ranting-jetblue-captain-clayton-osbon-dreamed-of-life-as-an-astronaut-ncxdc-032712
Clayton and his wife have purchased a Wii System. "It's so accurate," he says of Wii Bowling. I tease him for "nerding" up bowling with physics lingo. After all, I'm an alumna of the Pee-wee League at Blue Hen Lanes in Delaware. "What's your high score?" I ask.

"Two hundred and something–the same as what it is on the lanes," he laughs. When I press him to pin it down, the man who believes you should offer whatever talent you have to make the world a better place says, "

Just make something up

."
Source: http://writerkillingdarlings.wordpress.com/richmond-hill-reflections/clayton-osbon-flight-standards-captain-for-jetblue-airlines/
This terror event was sponsored by Nintendo, I guess.
JetBlue Flight 191 passenger Gabriel Schonzeit recounts the details of the captain of yelling about bombs and passenger taking him down March 27, 2012 as the flight was diverted to Amarillo Texas.
full link: http://www.youtube.com/watch?v=PdY0Yp3cZQ8
The captain was subdued thanks to the help of passengers on the flight

'packed with burly men' heading to the 2012 International Security Conference in Las Vegas

.
Source: http://www.dailymail.co.uk/news/article-2121240/JetBlue-pilot-Clayton-Osbon-restrained-PASSENGERS-going-berserk-mid-flight.html