Just recording this story on a separate thread on our forum, in case it gets more interesting or significant as time goes by.
Map of the earthquake events in the area: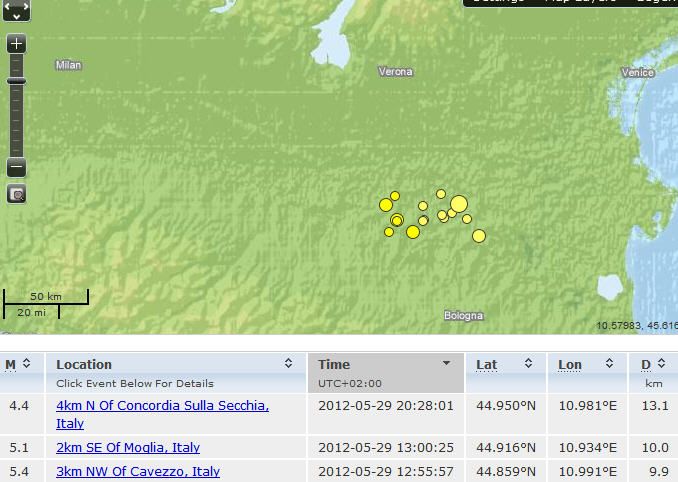 Screenshot from http://earthquake.usgs.gov/earthquakes/ ... ZhbHNlfX0g
Note that the USGS data is not really updated in real time as they say. There has been another 4.2 magnitude shake on the evening of May 31st, for example, but the data collection on the website for this area has stopped on the 29th.
More updated seismic info can be found the italian blog of the
INGV
, Italian institute of Geophysics:
http://ingvterremoti.wordpress.com/
Various pictures of the damage:
http://www.corriere.it/cronache/12_magg ... 0957.shtml
As I briefly stated in another thread on the 21st of May, obviously (since it involves such a wide and highly populated area) this event was real. I live in northern Italy, some 200 kilometers from the epicenters of this wave of earthquakes and in the same Po region -- and I felt them all. Even the smaller ones could be felt and still are.
The strongest shake, a magnitude 6.0, is probably a joke in Japan or Chile -- but in Italy, and in this area in the Po region which was never classified as seismic, a magnitude 6 can cause a lot of damage. Buildings can be very old and literally built on sand or very fine sedimentary rocks.
Seismologists on newsmedia (which is to say,
totally untrustworthy individuals who do TV with a title
) keep saying that this area was not classified as seismic,
but it should have
. Well, easy to say now. For all my life all I've heard was: "The Po region is not seismic and never will be, because of the layers and layers of sedimentary rocks that cushion every shake".
The Italian geophysics institute conversely states that the Emilia region was included among the dangerous areas since 2004. In this tiny map as a matter of fact most of Emilia is painted in a bright yellow:
From http://www.ingv.it/terremoti/pericolosita-sismica/
It is all a matter of trusting the fact that this map has really been out there since 2004, and it has not magically appeared just now. Me I don't have much reason to trust any of the entities providing the information.
It must also be noted that many of the epicenters of this wave of earthquakes still seem to originate in the green-blue "no risk" part of the map, just across the border to Lombardy -- so what gives?
There is not much else to add to this story except the oddity of the epicenter coordinates according to USGS, for the strongest shake of 6 magnitude: 44.920°N 11.330°E. Numerologists can go nuts there...!
And the fact that the last shake recorded on the 29th (as I said, there have been others since then, but USGS seem to have stopped recording them for the time being) is located
at the town of "Concordia"
.
Am I saying this means the earthquake is artificial? Some fancy earthquake machine is involved? Fracking? Underground explosions? The moon eclipse? Or is there just hype and news manipulation? No, I don't feel like saying any of those things...
* * *
Possibly connected to this topic:
Italy under attack / Monti's Italy
viewtopic.php?f=29&t=1015
Costa Concordia incident, Friday 13 Jan 2012
viewtopic.php?f=25&t=1192
Brindisi "mafia" school bomb
viewtopic.php?p=2370467#p2370467