The movie S1m0ne (
http://www.imdb.com/title/tt0258153/
) was briefly previously discussed
on this thread
. But I thought I should share a couple of things I noticed about it.
Synopsis:
Based as it is on the idea that the whole world can be conned by a digital simulation and by sim-people, plus the fact that it came out just around the time of 9/11, the movie is yet another commentary on the ability of Hollywood & the media to forge artificial reality, just like "Wag the dog".
Sorry for summarizing the obvious.
In any case, I was skipping through it (I don't intend to waste two hours of my life to watch it) and I happened to stumble on this scene:
transcript
"look, even her name is fake! It's not Simone. It's "sim" "one", see? "Simulation" "One".
I find it remarkable how Pacino says these words
looking directly at the camera
, rather than interacting with the other actors (no the scene does not justify it). As in a classical Hollywood cliché, the good guy here is trying to warn the world, except the "authority" (the guy in a gray suit, just like in "the matrix") is there to prevent this from happening.
(You will say this is a bit stretched but, although you can't see it in the gif above, I can't help but notice how the pieces of films hanging from that wire next to Pacino seem to be accidentally composing "IX" and "11")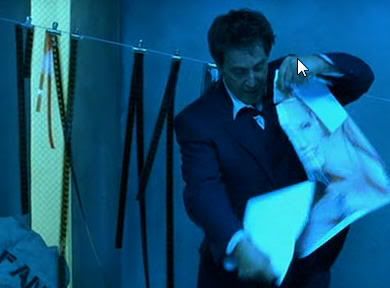 How the movie ends?
The simulated girl is made to come back announcing her decision to enter politics.
Happy ending.