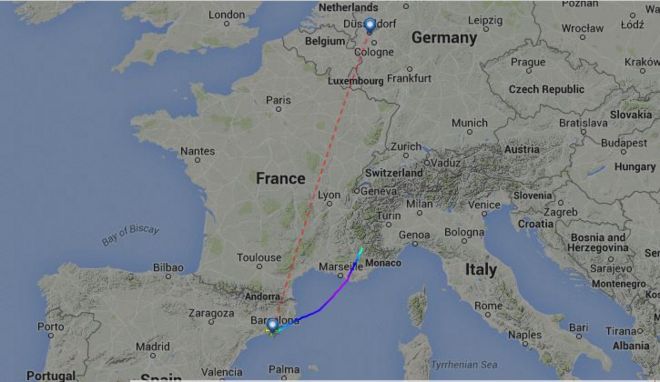 Germanwings airliner crashes in French Alps
http://www.bbc.com/news/world-europe-32030270
Just very quickly creating a placeholder for this alleged air crash of flight 4U 9525 from Barcelona to Dusseldorf. Soon it might turn out to be another faked event, maybe a terror event or another "mysterious" crash Malaysia style in which case this thread should be moved to the appropriate forum section.
For now I can notice two things, first, geographically speaking this is a very good area where to stage a crash. Right in the middle of nothingness on the mountains, difficult to access, probably nobody was around when "it happened".
Also, I'm amazed to find on this page:
http://www.flightradar24.com/data/airpl ... x/#5d42675
(via this instant wiki page:
https://en.wikipedia.org/wiki/Germanwings_Flight_9525
) the above flight map and the below real-time graphic of the speed and altitude for this flight. Are they testing this sort of "blackbox for dummies", just to add convincing arguments to their projection of reality?
from http://www.flightradar24.com/data/airpl ... x/#5d42675
What happened at 9:31!? terror event? Suicide pact? No more peanuts? I can hear all the bullshit conspiracy crap already...
And a further comment... Supposing this is yet another staged bullcrap: we have
the easy fear
(nothing as scary as a plunging plane with no way out),
the excuse to tight up security
in airports where we
have to
submit if we want our week holiday in Ibiza... but is there also a desire to discourage people from travelling? We always say it, but I wonder why...?