first, occam's famous razor is just a heuristic. it requires the want-a-be-philosopher type who wields it to employ the fewest assumptions possible.
second, history is narrative and it is a waste of time to ascribe motives to it. it's like trying to figure out why hamlet was such a miserable prick.
luckily for you, in this instance the narrative provided the motive in the form of bill pickering, the head of jack parson's lab who oversaw the u.s.' response to the s.u.'s little beeping ball in the sky with van allen and von braun...
"It was only the beeping reality of Sputnik that suddenly made the threat of intercontinental atomic warfare with ballistic rockets more than a science fiction story."
http://www.nzedge.com/legends/william-pickering/
...hopefully your logic can kick in from here seeing as you don't believe in nukes.
bythefeckinway, your boats were/are using loran to navigate at sea. loran was invented by the real bruce wayne we're told. his name was alfred loomis and he was a one man rand corporation. he also invented sonochemistry in his castle in tuxedo park. acoustic bubble cavitation is the real chain reaction...
https://en.m.wikipedia.org/wiki/Alfred_Lee_Loomis
"The modern ultrasonics era arose from Professor Paul Langevin's 1917 invention of the quartz sandwich transducer for underwater sound transmission in submarine detection. Loomis renewed the wartime acquaintance with Professor Robert Wood and offered to collaborate and underwrite any joint research ventures. In 1926, Wood told Loomis of Langevin's experiments and suggested the subject offered a wide field for research in physics, chemistry, and biology. It was this group that had allegedly introduced ultrasound to chemistry in 1927. When a liquid is exposed to ultrasonic waves bubble growth is created which is known as cavitation. Sound waves stress these bubbles, causing them to grow, contract and eventually to implode. With implosion, immense heat and pressure are produced that speed reactions. Every imploding bubble is a microreactor in itself. This is due to the extreme heat released upon implosion that creates a local hot spot. Temperatures can reach 5000°C with pressures of several hundred atmospheres. These benefits make sonochemistry has in recent times became a useful tool for the synthesis of chemicals, pharmaceuticals and the production of new materials with unusual properties."
http://www.ob-ultrasound.net/loomis.html
...i'm no psientist but 5000º celsius sounds plenty hot enough to make steam to me; and when all those bubbles are imploding they give off a pretty blue light that just so happens to look just like the pretty blue lights given off by the so-called cherenkov radiation at the bottom of nuclear reactors. feel free to use your logic once again to connect the dots.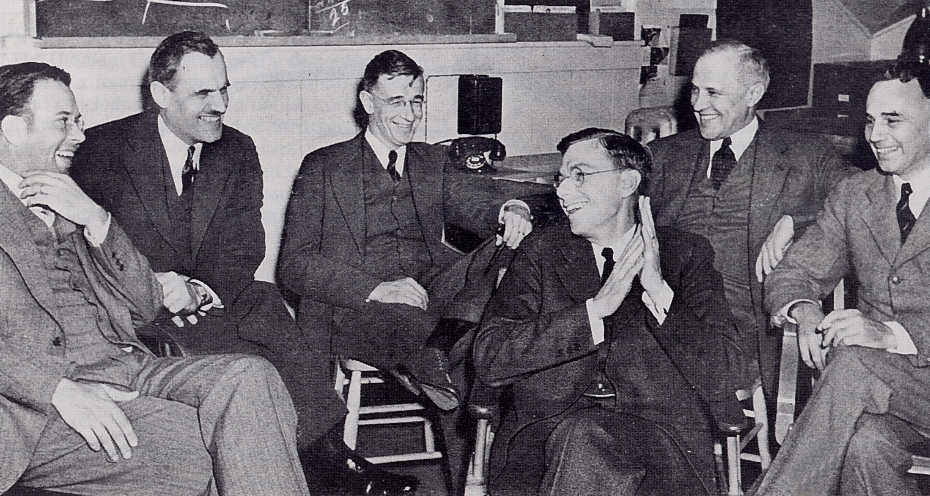 http://blog.nuclearsecrecy.com/wp-conte ... s/2012/07/
loomis is on the far right. he financed the dude's on the far left cyclotrons, the atom-smasher is sitting next to arthur compton (luis fuckin alvarez' thesis advisor), arthur is sitting next to vannevar bush, james conant is in front of bush (he made his first fortune with a dude named chauncey loomis and his granddaughter wrote best-selling bios of loomis and oppenheimer), the other dude is arthur's hustling brother karl...
http://blog.nuclearsecrecy.com/tag/james-b-conant/
https://en.m.wikipedia.org/wiki/Jennet_Conant
loomis' first cousin and mentor was henry stimson, fdr's secretary of war of course...
https://en.m.wikipedia.org/wiki/Henry_L._Stimson
...loomis' son would be head of v.o.a. and his greatgrandson started netflix...
http://www.washingtonpost.com/wp-dyn/co ... 03752.html
https://en.m.wikipedia.org/wiki/Reed_Hastings