*
Dear friends and valiant Cluesforum contributors,
The time has come for us all to proudly celebrate our...
10TH ANNIVERSARY OF CLUESFORUM'S EXPOSURE OF THE GSTS (the Grand Space-Travel Scam)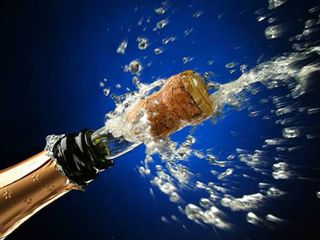 ...and I think it is appropriate to announce this celebration on this very thread titled
"Does Rocketry Work beyond Earth's atmosphere?"
- since it represents the logical conclusion of our longstanding investigations which, I dare say, have continuously strived to observe what we may call
scientific rationality
or, more simply, plain common sense.
Yes, we have investigated this sorry scam for more than 10 years now on this forum - and it would seem that, thankfully, many people around the world have been "listening". The viewcounts of our main threads exposing the GSTS may not be sky-high - but since this forum is, basically, my personal effort (supported by a few great souls) to expose the mass deceptions surrounding our lives, I'd say that these viewcounts of our main threads regarding the GSTS are, well... pretty encouraging:
"FAKERY IN ORBIT: THE I$$":
1,421,802 (almost one-and-a-half million views!)
"THE MOON HOAX":
1,386,562 (rather more than 1million views!)
"ENDEAVOUR - the 30-year Space Shuttle hoax"
: 1,084,388 (more than 1million views!)
"SATELLITES: GENERAL DISCUSSION AND MUSINGS":
950,210 (almost 1 million views!)
"DOES ROCKETRY WORK BEYOND EARTH'S ATMOSPHERE?"
: 690,858 (rather more than half-a-million views!)
(There are of course numerous other Cluesforum threads which provide further evidence of the GSTS.)
It was in fact around October/November 2009 that the first thread ("THE MOON HOAX") dedicated to exposing the Grand Space Travel Scam came to life on this forum. I can well remember that, at the time, there were already quite a few websites around the internets debating the fairly large "underground" literature exposing the absurdities of NASA's purported six moon landings (between 1969 and 1972) - i. e. the entire Apollo fable. However, as I started wondering (back in 2009) whether perhaps
ALL
of NASA's subsequent, purported space travel exploits were similarly faked, I could hardly find ANY websites discussing whether this was the case. This is why I decided to spend several months taking a closer look at NASA's Space Shuttle program which, of course, closely followed the Apollo program and its wondrous exploits - as diffused on TV. It didn't take me too long to realize (and demonstrate) that the Space Shuttle program was every bit as fictitious as the Apollo program - and yet another hoax constructed entirely with the aid of the sort of "Hollywood Special Effects" that movie-goers are all familiar with. My full Space Shuttle research can be found here:
"ENDEAVOUR - the 30-year Space Shuttle hoax"
Since then, of course, a lot has happened : many thousands of independent thinkers have now grown an awareness of the sheer inanity of NASA's tales. Yet it would appear that, today, most people still cling to the (rather illogical) idea that
ONLY
the Apollo program was a Made-for-TV mass deception. In the UK, for instance...
"Coming up is the 50th anniversary of the Apollo 11 moon landing. In 2016, a survey showed that 52 percent of the British public thought that Apollo missions were faked. Skepticism is highest among those who were too young to see it live on TV

:

73 percent of aged 25-34 believe we didn't land on the moon

, compared to 38 percent of those aged 55 or more.

These numbers seem to be rising every year

."
http://www.unz.com/article/the-moon-lan ... r-mankind/
Yes, those most encouraging numbers (e.g. 73% of the young and active adults in the UK !) seem to be rising every year - and I think that all the thoughtful Cluesforum contributors to our longstanding, methodical NASA exposure can be righteously proud to have actively facilitated this gradual mass-awakening. This is not saying that we should now discontinue our efforts at picking apart this most "astronomical" hoax hoisted upon humanity. On the contrary: let's keep informing our fellow earthlings about this humongous scam with renewed energy - until no intelligent brain matter on this planet continues to believe that NASA (and its international cohorts) truly sends rockets into outer space - and parachutes probes upon Mars and assorted asteroids... Do not worry about the reactions you will get from many (mostly older?) folks who just LOVE the Space Travel Fables - and just cannot let them go. They will get all twitchy and angry about it - just like the day when you realized, as a kid, that Santa Claus was nothing but a dumb fairy tale sold to you by your very own Mom and Dad! Similarly, to realize that we have all been scammed by our world's largest "Scientific Institutions" is just a phase we adults need to go through - in order to restore some degree of sanity on this planet.
THE FLAT EARTH DAMAGE-CONTROL PSYOP
Of course, NASA's Propaganda Department hasn't been sitting on its ass this last decade - as public awareness of the GSTS slowly started sky-rocketing (just like their slow-starting rockets...): around mid-2014 or so (i.e. around the time when Cluesforum enjoyed its historical peak of daily visitors), the NASA Propaganda Department launched their "FLAT EARTH Programme" : this propaganda gimmick is, I must admit, a quite clever psychological operation designed to associate anyone who questions NASA with those who claim that Earth is as flat as a French pancake. The net result being that, if you now try telling to someone that NASA is a total scam, this person will most likely say:
"Oh, so you must be a Flat Earther, eh?"
- and thus dismiss you as a raving crackpot. I really must concede - even though it hurts - that NASA's Flat Earth Psyop has to be one of
the smartest (and evidently highly successful - internationally!) "damage-control" operation of all times.
One must (reluctantly) "admire" their skills at fooling the world - much as one may "admire" David Copperfield for making the Statue of Liberty disappear in front of a large audience... The question is: HOW LONG will these magicians get away with it?
NASA: HOLLYWOOD'S SCI-FI DEPARTMENT
Few people will know that the first administrator of NASA (founded in 1958),
T. Keith Glennan
, was a former studio director for the Paramount and Goldwyn Mayer movie giants around which Hollywood was founded. In hindsight (and knowing what we now know), it is no wonder that he was chosen to be NASA's first administrator - since NASA has never been anything else than an ongoing, multi-trillion-grossing movie production sold to the world as reality. Fortunately, every seam of this massive cinematic hoax is now starting to crackle - as most people are now aware of the sort of advanced movie special effects such as those used to produce the 2013 movie
"GRAVITY"
(starring Sandra Bollocks and George Clowney). However, probably very few people know of (or remember) the techniques already available back in the 1950's - such as those featured in the old Russian movie
"The ROAD TO THE STARS"
: in this vintage 1956 movie, we can see apparently weightless "actornauts" hovering and bobbing around their spaceships (rather realistically) - much like those modern-day "ISS Space Station" actornauts featured in NASA's numerous Youtube videos. I would say - very solemnly -
that the most urgent realization for any living person today is that practically ANYTHING can be faked with movie technology
(and has been so for a long, long time). We ALL need to start thinking for ourselves. Television - and the entire mainstream media - has been selling to our world's population a bunch of idiotic lies for many decades and, unfortunately, most people have bought them. It is now high time to realize this disgraceful state of affairs - and start organizing ourselves so as to reclaim reality.
SPUTNIK (1957) - THE START OF THE GSTS SCAM:
When Sputnik - the "first man-made satellite" - was aired on TV back in 1957 (the year before NASA was founded), the hapless TV-viewers had no way of imagining - let alone suspecting - that it could possibly be a hoax:
Television ITSELF
was still a fresh novelty for the world's population - and people had little or no idea of what sort of deranged psychopaths are running (or, if you will, "holding the reins of") this planet. At the time, the frightful so-called "Cold War" between Russia and America was on everyone's lips; we now know that the "Cold War" was just a farcical tale designed to keep this world's population in constant fear of an impending nuclear holocaust. Amazingly however, there are - still today - many people who simply cannot see the blatant farce that Sputnik was: you can show them this comical (or pathetic) 1957 CBS "News Report" - but they will still believe that the Sputnik satellite narrative (which, at the time, scared the wits out of the American populace, since they were told that it might carry an atomic weapon) was absolutely real !
full link: http://www.youtube.com/watch?v=dO33bvFbUCU
Of course, no man-made satellites could possibly survive the constant bombardment of (millions? billions? trillions?) of meteors which enter our atmosphere every day - which thankfully burn up / get vaporized by sheer molecular friction (...unlike NASA's wondrous space machines which somehow are able to re-enter our atmosphere without barbecuing the human flesh of the alleged ass-true-nots on board!). It's a silly joke - and the joke is on us, the gullible populace. One fine day, our children will all laugh hysterically about our incredible gullibility - and with good reason. We may however remain hopeful that this fine day will come soon - since 75% of the young & active adult Brits (God bless'em!) refuse to believe in NASA's flawless six moon landings between 1969 and 1972...
THE PSYCHOPATHS BEHIND THE NASA SCAM
To illustrate the sort of clowns who get recruited to perpetuate the ongoing GSTS, I have chosen just two of them - so as to exemplify the kind of individuals who make a living out of lying. I trust that anyone graced with a sound and astute cognitive disposition will sense the untrustworthy nature of these two bizarre individuals:
Would you buy a used car from ROBERT ZUBRIN?
https://en.wikipedia.org/wiki/Robert_Zubrin
full link: http://www.youtube.com/watch?v=j2Mu8qfVb5I
Would you buy a used car from DON PETTIT?
https://en.wikipedia.org/wiki/Donald_Pettit
full link: http://www.youtube.com/watch?v=BK-uatwOOeA
MY TYCHOS RESEARCH
I would now like to underline the fact that my TYCHOS research would never have seen the light of day - if it wasn't for my realization that NASA (and ALL space travel) is a massive / worldwide scam - unwittingly financed by the taxpayers of the USA, Europe, Israel, India, China...
and even Ecuador!
In other words, the GSTS is run by a multi-national "mafia" cartel - all of which are happy to defraud millions of taxpayers by exploiting the seductive "excitement" of Space Travel. I, for one, will have none of it, thank you very much. What about YOU? Are you, as a taxpayer, happy to keep supporting this massive, ongoing scam?